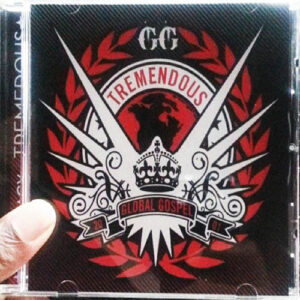 The album starts off with OG Stacy rebuking the devil in the name of Jesus. This is a clear indication of the experience you will have while listening to the album. After that, it transitions to "All I Need" which is a song about Jesus. Literally…the hook simply says Jesus, Jesus, Jesus.
Tremendous, which is the title cut, is pretty self explanatory. The Lord we worship and serve is tremendous. His favor is tremendous. His blessing are tremendous. His forgiveness is tremendous. He will have a tremendous impact on your life…if you let him.
One of the tracks that probably blessed me the most was "If Ya Heart Ain't In It". It's a soulful message about making sure you have the right motives in this ministry. At the end of the day, it doesn't matter how much good you do, how successful you are, how many people you may have helped or even how much church you go to. If your heart ain't in it, God won't have no parts of it.
Staying true to form, Gospel linked up with Blessed Child and II Crunk 4 Jesus and they dropped "Big Boy Stuff". II Crunk ate this track up too. This was a shot at all these artist who brag and boast about earthly possessions like money, cars, jewelry and etc instead of bragging about the God who made all these things possible. The big boy stuff is in recognizing where blessings come from and acknowledging God for what he has done for you.
To anyone who may be reading this right now, have you considered what would happen if you died today? Gospel hooked up with his long time friend, the legend, Big Mike, who you may remember from songs like Black Lacquer. They did a track called "If I" that talked about what would happen if I died today. Consider your loved ones and all of the projects you may be working on that would be incomplete. What about the people you've wronged and haven't made it right? It really put things into perspective.
One of my favorite tracks on the album is called "Absolute". He's talking about having that one person, that one somebody who is always there and they always do what is best for you. It may be impossible to find a human to be absolute for you. According to the song, Jesus is his Absolute. Check the lyrics.
See all I dream about is everything you ever did
You the absolute truth because I know you is
You the son of God, Mary's baby that bought our heart
Defeated everything just so I can walk with God
That's why we call you Lord and I ain't shamed to bow down
Your love is so amazing that it make this world go round
Say the name of Jesus oh Lord how sweet the sound
It ain't no limit so I'm blazing up beats by the pound
You took a trip to hell and set the captives free
And let em walk around the earth for the world to see
I'm talking saints of old
you went and freed their souls
From the belly of the beast
Cause you died and rose
You snatched the keys back
You took the power too
I told them once and told them twice that all belong to you
See you my absolute
Dear Lord and I salute
This world is full of lies Lord you my only truth
Earlier this year we had an opportunity to minister in Livingston, TX. It was Gospel, Trinity and I making this road trip. On this trip, Gospel shared his testimony with us about how he died and God brought him back with a renewed purpose. He closed the album with a sample from Snoop Doggs Murder was the case with a song called Jesus is my Savior. In this song he literally shared the testimony we heard on the road trip, but in lyrical form. He killed it.
Tremendous is one of those projects that is life changing. Gospel used his creative word play and raspy delivery to lyrically take you to church and make your head bob all at the same time. The production of the entire project was masterfully done by Krank over at Krank It Up Productions (new studio under construction by the way).
It doesn't matter where you are in life at the time, there is a song to speak to your situation. I want to encourage you to connect with Gospel and get a copy. It will help you improve your walk with Jesus. Why…because he is Tremendous.