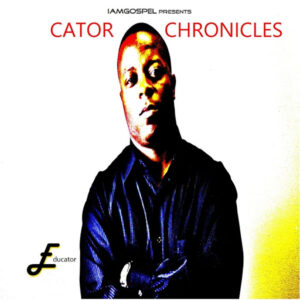 So, Educator hit me up and was like, Poetic go check out my latest release called Cator Chronicles. I was like no problem, really hoping that it had the same level of heat as his No Compromise album and the Imprint 3 Legacy album. After I purchased it from Google Play, I quickly realized he put that work in. The album has 18 tracks. That's almost double compared to some of the projects I've gotten recently. The album covered a variety of topics and issues he's dealt with over the years.
It started off with Chronicles as the first track. It was him just reminding people he been in it 2 decades plus and what the purpose of the album was. It is to teach you what he's learned about Christ.  Titus 2 is a song that is needed today for the men who are dealing with boys. It was about being a role model for young people. Give God Praise was a historic journey through the albums and the trials Cator has been through. At the end of the day, he had to give God all the praise through everything…the good and the bad. Shine is a song that was literally asking to God to do everything for him. Shine on me all the time, no matter what's going on. Shine down on me. Take A Stand is a song reminding us to remember why we do this. Too many times we get focused on the money and what we can gain. He started off asking, what does it profit a man to gain the world and lose his soul. Transparent was a song about begin open and honest with yourself. He opened up about some of the trials he went through and how God fixed it. He said being transparent is important in the life of a Christian and it don't matter who is staring. Ready for the rain was about understanding what the rain represents. The rain represents God's blessings. it represents being cleaned. He's ready for God to rain on him. Remember Me was a memorial song dedicated to the loved ones who passed. RIP Godfather. Why You Can't Hear Me is a song talking to the family about certain issues. Its almost like an open letter to those going through the struggle. You have to stay focused on God. Pharisee was my favorite on the project. It is a song featuring Wyzeman talking about those out here trying live two lives. The Pharisee's was faking and shaking with their religion and Cator is saying if you doing that, you a Pharisee. Power is a song about the Holy Ghost power, saving grace and the things you can do it. Praying For A Week was a song featuring the homie 1 God and was about praying to survive. How we need prayer to make it.
Dig this verse from Power
I am walking in authority
Father Son and Holy Spirit I call that majority
you can follow me
24 plus years and counting
annointing breaks every yoke,
faith moves every mountain,
just dranking from this fountain
no longer will I thirst
accepting righteousness, I call it thirsty word
when you get up in this word,
you can do all things
heal the sick and give sight to the blind,
you know the calm breeze
my life was stuck in the dirt
a muddy situation
but he picked me up and dust me off, cleaned me up salvation
motivation, thats right I'm so redeemed
a child of the King
Holy Ghost authority
Educator didn't let me down with this one. He was able to take the same high energy, the same scriptural focus but actually change his rap style. Cator Chronicles has a totally different approach compared to his other projects. Lyrically, he went in. The production was on point and the message was consistent with the other 15 albums he has. Get you a copy of Cator Chronicles Today.