The Lyrical & Spiritual Radio Show is a weekly Christian Hip Hop radio show.  For 2 hours, Poetic Prophet and JT the Golden Child will have Bible Study, interview a Gospel rapper, review a new Christian rap album, listen to new music and more.  Tune in every week…watch, listen, comment, like, share…engage with us.  We appreciate the support.
We started out with Gospel Radio Nation and had great success for the first 2 years of broadcasting.  Starting March 4 2019, we relaunch with a new partnership with Blessed Beatz Media.
Catch Poetic and JT on Blessed Beatz every Monday at 8pm.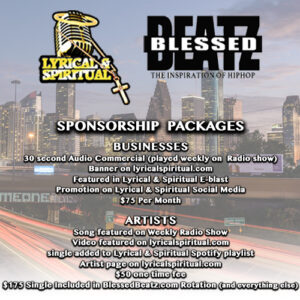 Visit the sponsorship page and contact us to Sponsor.
---
Check some of the previous radio shows…